Guest Blogger Beverley Kendall: Why I love series!
It is my intense pleasure to welcome debut author Beverley Kendall to my blog. I picked up Beverley's debut novel, SINFUL SURRENDER, on a whim, and was absolutely blown away. She instantly jumped onto my very small auto-buy list. Today, Beverley is blogging about one of my favorite things: books in a series!
Without further ado...Beverley Kendall!
I am one of those readers who absolutely loves series. I mean really love them. So of course when I wrote SINFUL SURRENDER I wrote it as the first book in a series. Of how many books? Right now just three, but the possibilities are endless for there to be more. And even a couple novellas.
I like series probably the same reason so many other readers do. I love knowing that my hero and heroine didn't just obtain this nebulous happily ever after, but something I get to see with my own eyes. In series you get to revisit former characters and find out how married life is treating them, how many kids they have. More importantly, you get to see them still loving each other. This assures us that their love didn't fade the moment we put down their book.
In my Reformed Rakes series I have three delicious men who are very close friends. Each of the men get their own story and one by one they will fall…and fall hard. In SINFUL SURRENDER, the hero, James Rutherford, is fighting a losing battle trying to fend off the pursuit of his friend's younger sister, Missy Armstrong. But I have to say James is putting up a helluva fight, unwilling to go easily into 'that good night'. And James has his friend, Missy's brother Thomas, acting as one of his primary motivators not to give in. Thomas is a very strong motivator.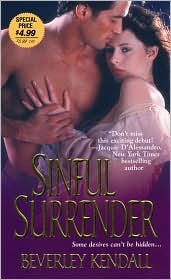 Now, I don't personally know any man who would ever want their innocent little sister to get together with their best buddy. Stuff like that just doesn't work very often (at least not in real life). I mean what happens if they break up, get divorced, or he treats her badly. The friendship is bound to suffer. I love the inherent conflict in that kind of pairing.
In my second book, currently titled THE GAUNTLET (this title will change this year) which will come out January 2011, my hero, Thomas is saddled with (those are his words) Lady Amelia Bertram, who is probably the only woman not swooning at his feet. Actually, Amelia dislikes Thomas intensely. But she must reside with him, his mother, and his sisters while her father is off in America. Someone once compared it to Taming of the Shrew. I will state emphatically that Amelia cannot be tamed. LOL. I can say that sparks fly in this book.
My third book, currently titled AN HEIR OF DECEPTION, is the one closest to my heart, but has not yet been contracted. It's definitely the darkest of the trio and adds more diversity to the cast of characters. I won't say a lot about it except that there is a child and a five year separation. My hero, Alex Cartwright, and my heroine, Charlotte Rutherford, have much to overcome. Of course they do, but, yikes, the journey is something else.
My own love of series started with Johanna Lindsey's Mallory clan. From that point on I was hooked. Brenda Joyce followed with the Braggs and then I believe Catherine Coutler's Night Trilogy. And I don't limit myself to historical. I adore Linda Howard's Mackenzies and Sandra Brown's Lucky/Chase/Sage books. My current favourite historical series has to be Lisa Kleypas's Wallflowers and then I think Tracy Anne Warren's current one with Avon, The Bryon's of Braebourne. To me you just can't go wrong with series (the concept, not the individual books). They represent love, life, friends and family. You can't go wrong with that.
So what about you, what are some of your favourite series?
Visit Beverley at her website and join her fabulous group The Season! It's a must for any lover of historical romances.
One lucky commenter will win a copy of Beverley's debut. For the rest of you, if you want to read a stunning debut novel, buy your copy of SINFUL SURRENDER today! You won't regret it.